Welcome to Basic Training
Dear Future Investor,
You are an independent thinker determined to have control over your financial future and live your version of the good life. You want to be debt free and travel, take memorable vacations, retire in comfort, send your kids to college, or help take care of a loved one.
And because you're independent, you don't like your financial future being at the mercy of your job, clients, or changing government regulations.
 You're tired of living paycheck to paycheck, putting money in a retirement account that you know won't support you in your golden years.
 You want out of the rat race and you know that real estate investing is the key.
The problem is that you have no idea how to begin, how much money you need to get started, or which investments would be best suited for you.
You've been trying to figure it out yourself by reading market reports, buying books, researching online, taking courses and seminars, but you still don't have a clear path to success.
You are in the right place. We can help you get clear on your path, have the CFA community to help you and fast track to your goal of having passive income! 
What you need is a step-by-step process that will cut through the clutter and help you:
Create a clear and fast path to cash flow freedom.
Get started investing with $0 to $20,000.
Determine the best investments if you have more to invest but you're unsure of your risk tolerance.
Find the BEST real estate investment strategy based on your age (how many years you have until retirement), risk tolerance, how much you need to live your cash flow dreams, and how much you have to invest.
Learn how to tell a good deal from a bad deal.
Overcome your fear of numbers (math).
Learn how to speak like an experienced investor.
Buy your first property.
Fix your credit issues and learn instead how to leverage your credit. 
Learn the many categories of real estate investing (you'll be amazed to learn how many opportunities there are).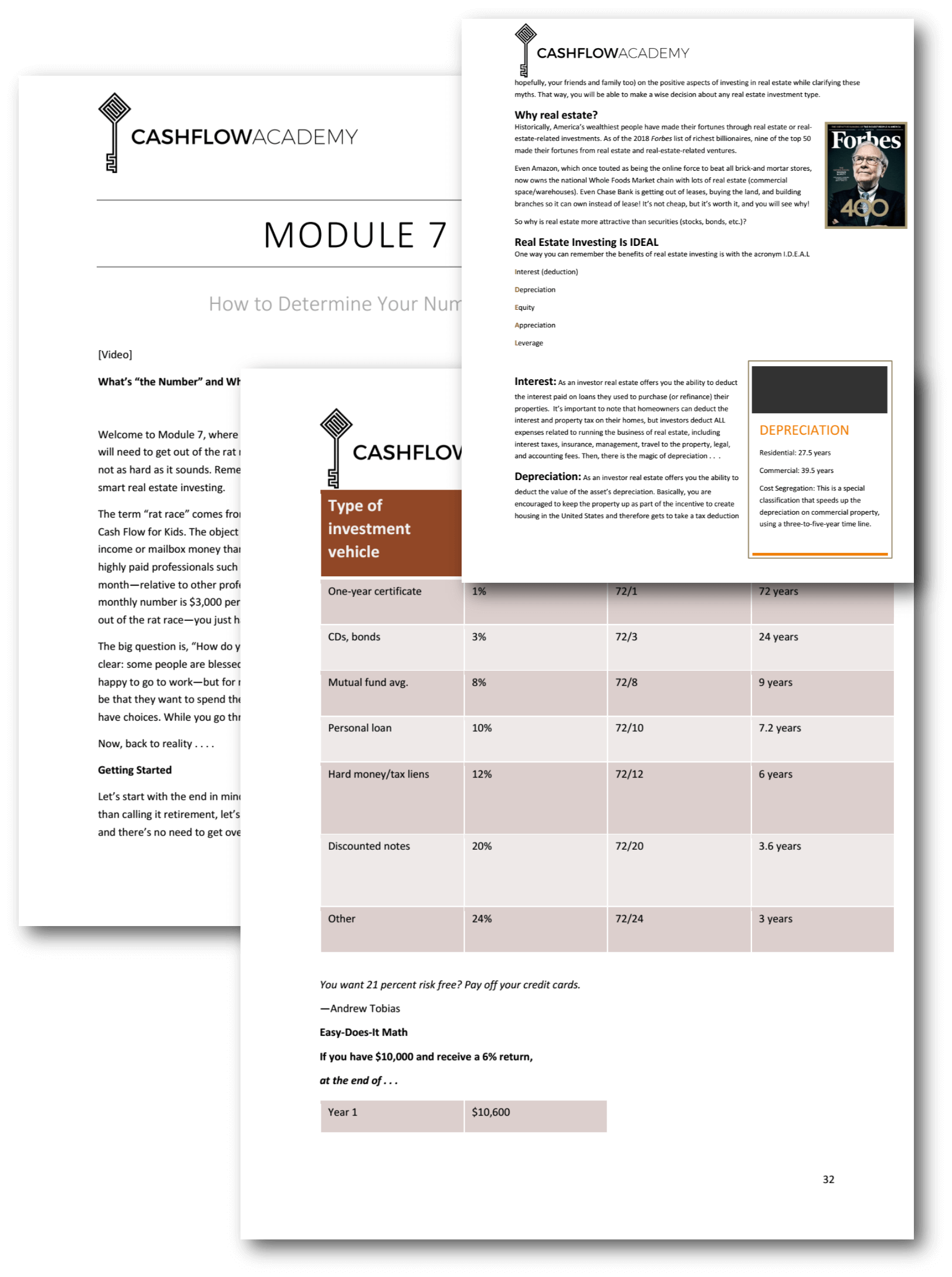 Cash Flow Academy Basic Training Program Includes:
11 Training Modules and more than 20 Videos.
Get 2 live coaching sessions with your CFA Certified Investment Coach per month during our group Q & A day.
Action steps you can take TODAY to help you secure your first investment.
Live interaction each week with CFA Founder Athena Paquette Cormier, M.A. in our private facebook group for CFA Members.
Attend live Investor to Investor Mastermind's with successful average income earners turned millionaires.
Receive reliable, spin-free, and current market news and exclusive real estate investing resources.
Receive a  Free Bonus Module, "Money Mindset" to help you overcome mental roadblocks to financial success.
Lifetime access to our CFA Investor's Club where you will receive exclusive invitations to live events and member-only discounts.
A Free downloadable PDF of our CFA illustrated manual for enhanced learning.
The Full Training Includes
Our signature step-by-step process that will help you to determine the exact strategy you need to create cash flow no matter your age or financial circumstances.
 Real Estate Busting Investment Myths that are getting in the way of what could be lucrative investment opportunities.
Why Real Estate is I.D.E.A.L and how to use leverage to quadruple your investment in real estate versus taking the same amount of cash and investing it in the volatile stock market
No Money ($0) investment strategies. Oh yes, you can get started in real estate with zero money.
Little known benefits to veterans.
Small Money ($100-$20,000) investment strategies
Medium Money ($20,000-$50,000) investment strategies
Big Money ($50,000 plus) investment strategies
Easy-Does-It Math Techniques. In real estate you need to understand the numbers. This isn't your high school math class! We make it easy for you learn how to do calculations that will make math fun (especially when it involves seeing your money grow, grow, grow!).
How to create a cash flow worksheet to help you get out of the rat race sooner than you would working blind.
Demystifying credit. We will show you where to get it if you need it  and how to improve your score. 
Lender lingo. Never be intimidated or overwhelmed again by the lending process. We will give you insiders tips and insights that will help you to leverage the lending process.
Investor lingo. Empower yourself by learning how to think and talk like the world's most successful real estate investors. In Basic Training we hold nothing back!  When you're done you'll be feeling like a confident investor even if you've never made a purchase.
Determine your risk tolerance and find the best real estate investments for you.
Learn about tax deeds, tax liens, notes, mobile homes and mobile home parks, hard money lending, wholesaling (bird-dogging), duplexes, multiplexes, commercial real estate investing, and more…
Discover why you should NEVER buy a condo as your first real estate investment.
Discover what to do if you've had a bankruptcy or foreclosure and how to get back into the real estate investment game.
How to get the cheapest financing and why this is important for your real estate investing future.
Learn our Investor's Manifesto!
How to create a healthy money mindset.
Get behind the scenes of a thriving investment business.
Meet Kyle. He's been a long time student of Athena and CFA and is discussing how he and his wife are buying yet another property!
"We wouldn't be in this position if we didn't have the right teacher. Thank you for all your guidance."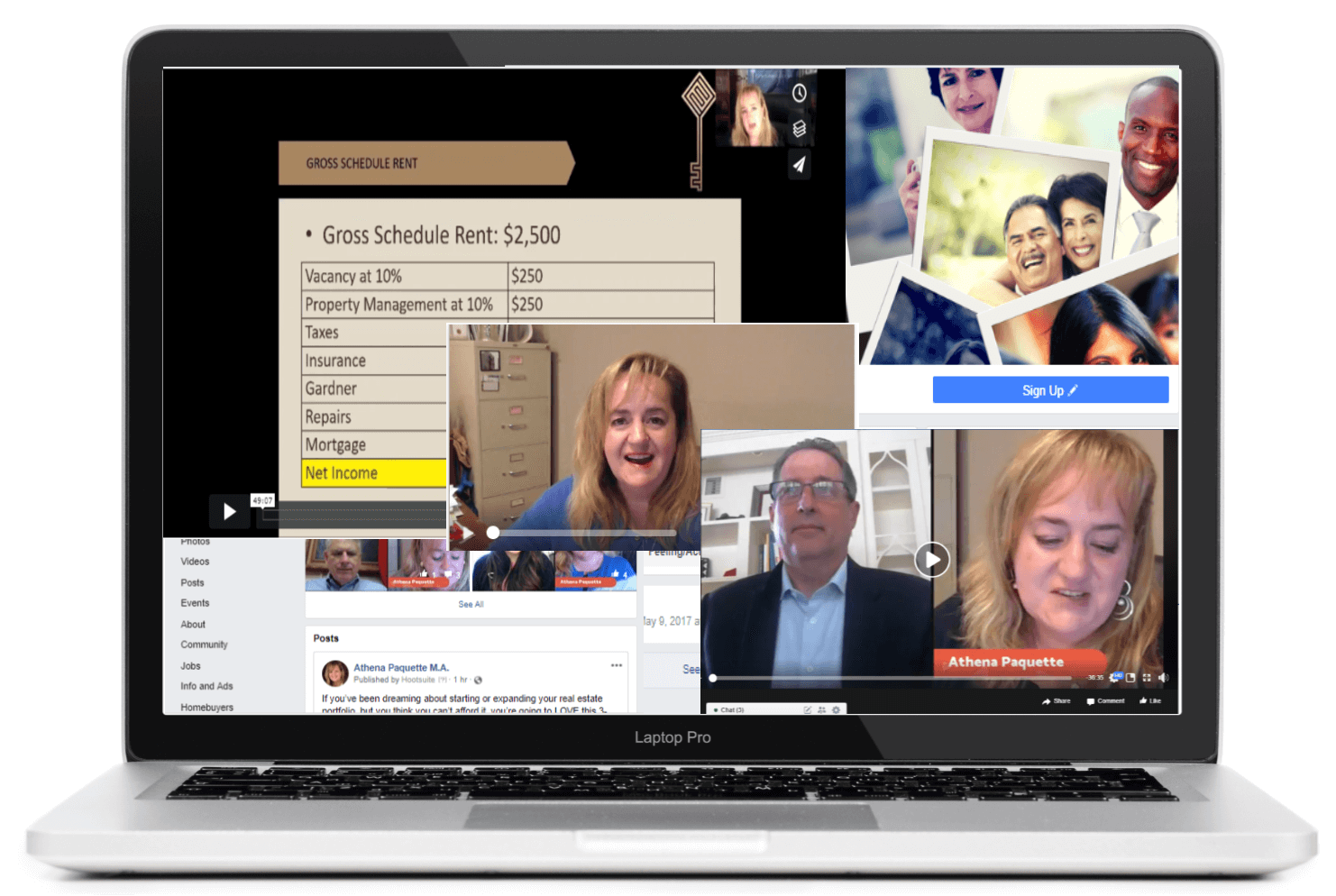 Winter enrollment is now closed.

Seating is limited to only 20 students per enrollment period. 
Your investment in your financial future is only $1497 
 Includes:
11 Training Modules
More than 20 Instructional videos
12-month access to the Coaching and Q&A monthly meetings
Your Bonus Module, "Money Mindset"
12-month membership to our exclusive CFA Investor's Club
The CFA monthly market newsletter mailed to your home and available for PDF download
12-month access to Exclusive Investor to Investor Mastermind calls
Member only discounts on all live events
Investment knowledge you can take to the bank again and again!
Get on the waiting list
To maintain the integrity of the program we limit enrollment to 20 students. 
Learn more and get on the waiting list, sign up for our webinar replay. Just fill in the form below and we'll give you instant access. 
All About Cash Flow Academy Webinar!
Register for the All About Cash Flow Academy-Basic Training Program Webinar today. Seating is limited.
I first met Athena about six years ago at the class she teaches at Torrance Adult School.
 I was so inspired by her class that I had the confidence to start shopping for income property.
I eventually purchased 2  buildings (9 doors) of cash flowing property.  I have also played the game Cash Flow.  It really teaches you how to think about all of your money, big and small.  I am now comfortable to venture beyond CD's and savings accounts.  
Athena acts as a mentor and I feel like she is rooting for everyone's financial success.  
Over the last five years my annual income and my net worth have both substantially increased.  I am a high school graduate and do clerical work, anyone can be an investor with a little guidance.